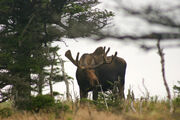 Moose
is the largest deer of the deer family and largest land mammal in North America.  It mostly found in Canada but can be small parts of northern U.S. and the state of Alaska.  It is not normally dangerous as long they do not have children or the males are not going through musk.  They live in forests and swamp lands grassing on grass and water plants.  When they get hot they spend more time in the water and spend time rubing against trees to releave themselves of ticks and other pests.  They make a noise that sounds like a horn.  To find this giant deer in cities is not unusual.  In Alaska, towns and highways have moose crossing sign and driving down downtown Anchorage, Alaska you can find them walking in full day light.  There major predators are Wolves and other large predators.  There is different species of Moose.  You have the Alaska Moose which live in Alaska and Yukon,  It is the largest species of moose.  Western Moose that lives from B.C to Western Ontario and Eastern Yukon across North West Territories and Nunvack.  It can be found in Upper Peninsula of Michigan and Northern Wisconsin and the Eastern Moose which lives in Eastern Ontario to the Atlantic Provenice.  It also lives in northeastern U.S. such as Maine, New Hampshire, Vermount, Massachusetts, Rhode Island, Connecticut and northern New York State.
Ad blocker interference detected!
Wikia is a free-to-use site that makes money from advertising. We have a modified experience for viewers using ad blockers

Wikia is not accessible if you've made further modifications. Remove the custom ad blocker rule(s) and the page will load as expected.