Angry bird attacks on Parliament Hill
Edit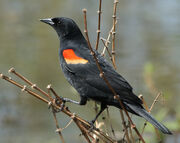 CP Video
Published Wednesday, May. 29 2013, 5:15 PM EDT

Last updated Wednesday, May. 29 2013, 5:16 PM EDT

A red-winged blackbird who's taken up residence on Parliament Hill has been swooping at passersby. Male red-winged blackbirds have been known to attack people during breeding season.
Ad blocker interference detected!
Wikia is a free-to-use site that makes money from advertising. We have a modified experience for viewers using ad blockers

Wikia is not accessible if you've made further modifications. Remove the custom ad blocker rule(s) and the page will load as expected.