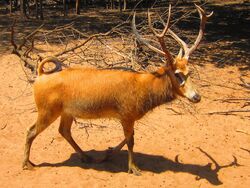 Père David's deer is a species of deer that lives in China. They are now extinct in the wild, but they have been surviving in captivity. They are semi aquatic animal that lives in marshland. They mainly graze on aquatic plants and grass.
Ad blocker interference detected!
Wikia is a free-to-use site that makes money from advertising. We have a modified experience for viewers using ad blockers

Wikia is not accessible if you've made further modifications. Remove the custom ad blocker rule(s) and the page will load as expected.