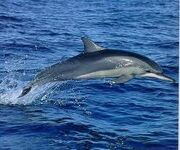 The Striped Dolphins is an extensively studied dolphin that is found in temperate and tropical waters of all the world's oceans. It is a member of the family Delphinidae of toothed whales.
Physical Description
Edit
The Striped Dolphin has a similar size and shape to several other dolphins that inhabit the waters that it does (Pantropical Spotted Dolphin, Atlantic Spotted Dolphin, and Clymene Dolphin). However, its coloring is very different and makes them relatively easy to notice at sea. The underside is blue, white or pink. There are one or two black bands that circle the eyes, and then run across the back, to the flipper. These bands widen to the width of the flipper which are the same size. There are two further black stripes running from behind the ear - one is short and ends just above the flipper. The other is longer and thickens along the flanks until it curves down under the belly just prior to the tail stock. Above these stripes the dolphin's flanks are colored light blue or grey. All appendages are black as well. At birth, individuals weigh about 10 kg (22 pounds) and are up to a meter (3 feet) long. By adulthood they have grown to 2.4 m (8 ft) (females) or 2.6 m (8.5 ft) (males) and weigh 150 kg (330 lb) (female) or 160 kg (352 lb) (male). Research suggest that sexual maturity was reached at 12 years in Mediterranean females and in the Pacific at between 7 and 9 years. Longevity is about 55–60 years. Gestation lasts approximately 12 months and there is a three or four year gap between calving.
The Striped Dolphin likes temperate or tropical, off-shore waters. It is found in abundance in the North and South Atlantic Oceans, including the Mediterranean and Gulf of Mexico, the Indian Ocean and the Pacific Ocean. Roughly speaking it occupies a range running from 40° N to 30° S. It has been found in water temperatures ranging from 10 to 26 degrees Celsius, though the standard range is 18-22 degrees. In the Western Pacific, where the species has been extensively studied, a distinctive migration pattern has been identified. This has not been the case in other areas. The dolphin appears to be common in all areas of its range, though that may not be continuous in areas of low population density do exist. The total population is in excess of two million.
The adult Striped Dolphin eats fish, squid, octopus, krill, and other crustaceans. Mediterranean striped dolphins seem to prey primarily on cephalopods (50-100% of stomach contents), while northeastern Atlantic striped dolphins most often prey on fish, frequently cod. They mainly feed on cephalopods, crustaceans, and bony fishes. They feed anywhere within the water column where prey is concentrated and they can dive to depths of 700 meters to hunt deeper-dwelling species.